We decided to start over with a clean blank black state. Why? The old blog was gathering some rather unsightly clutter! But being our sentimental selves (and seeing that all those old posts shouldn't go to waste) we couldn't let it go entirely (if you look at the sidebar, there's a link to it under the archives.)
By the way, we had no idea we would show up looking so similar! Between the idioms "great minds think alike" and "birds of the same feather flock together," we'd like to think that the former is better applied in this situation. Tee hee.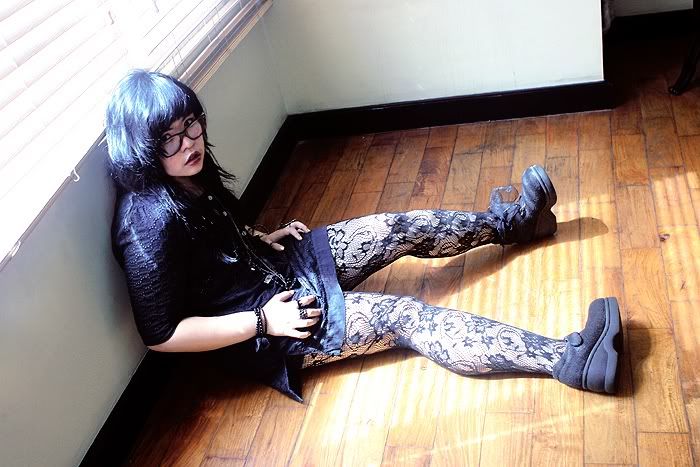 We used the semestral break to catch up on some dearly-missed quality time, moving from empty apartments to coffee shops to just-opened malls. Nice, slow and chill, just how we'd like the break to be. But alas; you know what they say about time! It seems so fast when you're busy doing what makes you happy. The end of our little vacation is drawing inconveniently close.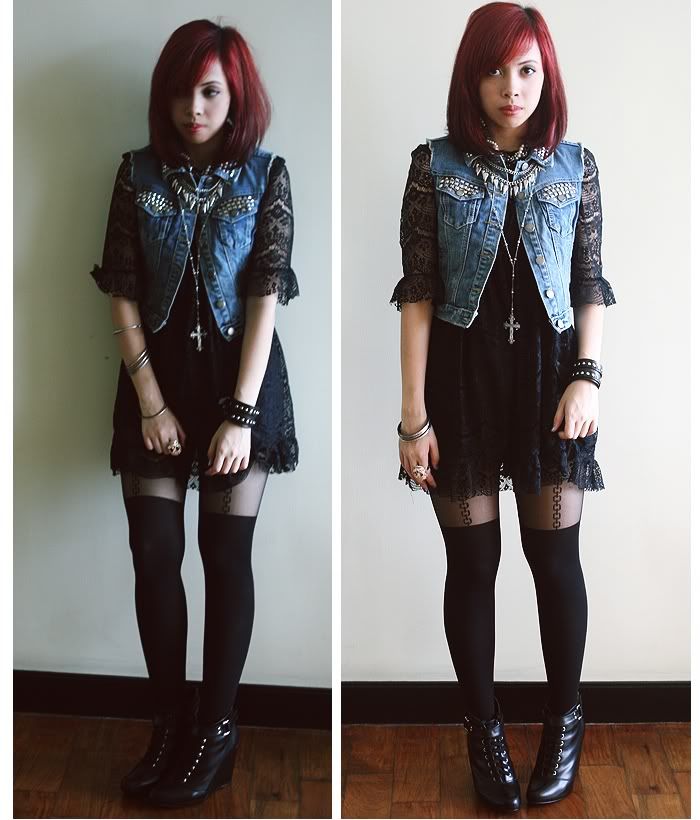 Thrifted lace dress, Forever 21 vest, Topshop tights, H&M booties
I know I'm stating the obvious here but it just doesn't feel "legit" enough a change if I don't put it down in writing here (I don't know why I have this silly notion), so I'm gonna say it: I've
recently dyed my hair red after years and years of an unsatisfied longing for colored hair
gone back to my
real
hair color! Yes, folks, I was born with crimson hair. I am actually the true form of the
Phoenix Force
. My red hair is the source of my overwhelming power. It was dyed black at birth to prevent the mass destruction I could cause by my uncontrollable strength. Now that I am older, I have accepted my red hair and my godlike superpowers because I am stronger and can control them. I should really stop this joke, it's going on for too long.
--Maronne
Girlshoppe pearl & chain necklace, Forever 21 spike necklace, Forever 21 rosary necklace, Rebel Gear leather cuff, Girlshoppe skull ring
Black, studs, skulls, spikes, pearls and lace. These are a few of my favorite things! --Maronne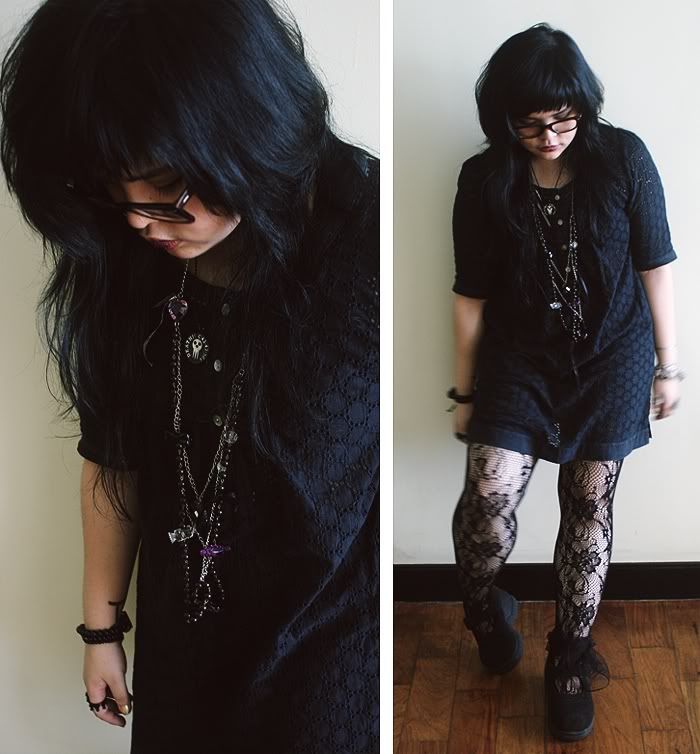 Thrifted dress, SM Department Store lace tights, Thrifted shoes, Gifted scarf
ACCESSORIES FROM EVERYWHERE! No really, I would be specific but it would just... be... I don't know. HAHA. -- Ina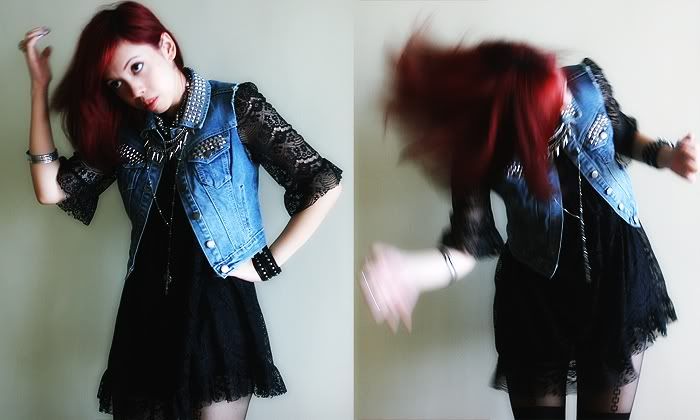 This looks like a meet & greet poster, Ina. I am so tempted to edit a fake meet & greet event on the side. "MEET AND GREET INA INONOG FOR NO REASON IN PARTICULAR!! YOU CAN EVEN WIN HER AUTOGRAPH!!!" --Maronne
As per ~*~blogger~*~ fashion, here is my ~*~Meet & Greet~*~ picture.
I told you it sounded pretentious...
-- Ina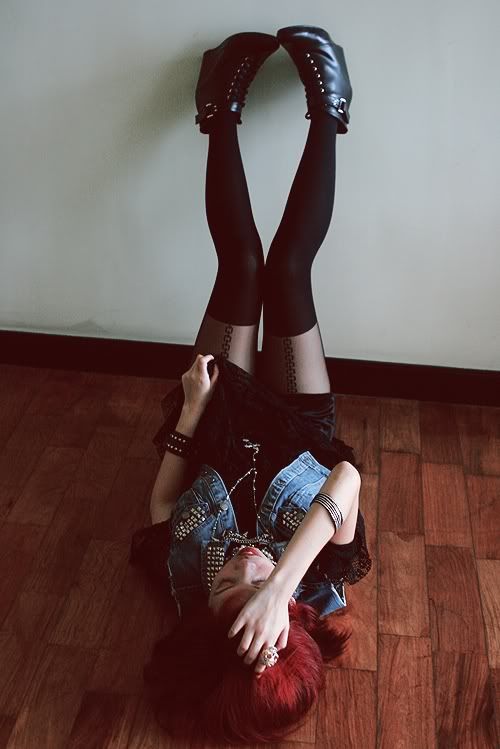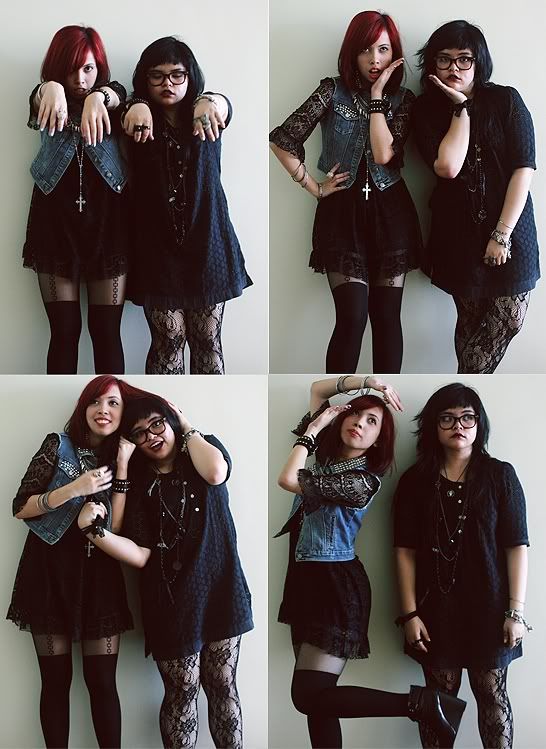 Can we share something sort of random? Being a style or fashion blogger has such a glamorous, "fashyon" feel attached to it lately and we can never seem to call ourselves "bloggers" without being snide and satirical about it. Being glamorous, cool, collected, mysterious and fierce is really an awesome thing but just isn't something that comes naturally to us at all! In fact, we're often self-mocking in referring to ourselves as "bloggers" because it feels very pretentious of us to be calling ourselves that. It's like we're saying that we're members of this secret society that we're really not a part of, although technically we really are bloggers because we own a blog, and the world of bloggers isn't a secret snobby exclusive society at all. It's weird, isn't it? Well, it only makes 'cause, you know, we're pretty weird. Plus, sarcasm is our true language.
This photo perfectly captures the beautiful friendship of Maronne Cruz and Ina Inonog.
Here's to a promising new beginning. We're walking through it hand in hand and hopefully you'll be joining us too! We'll see you around!